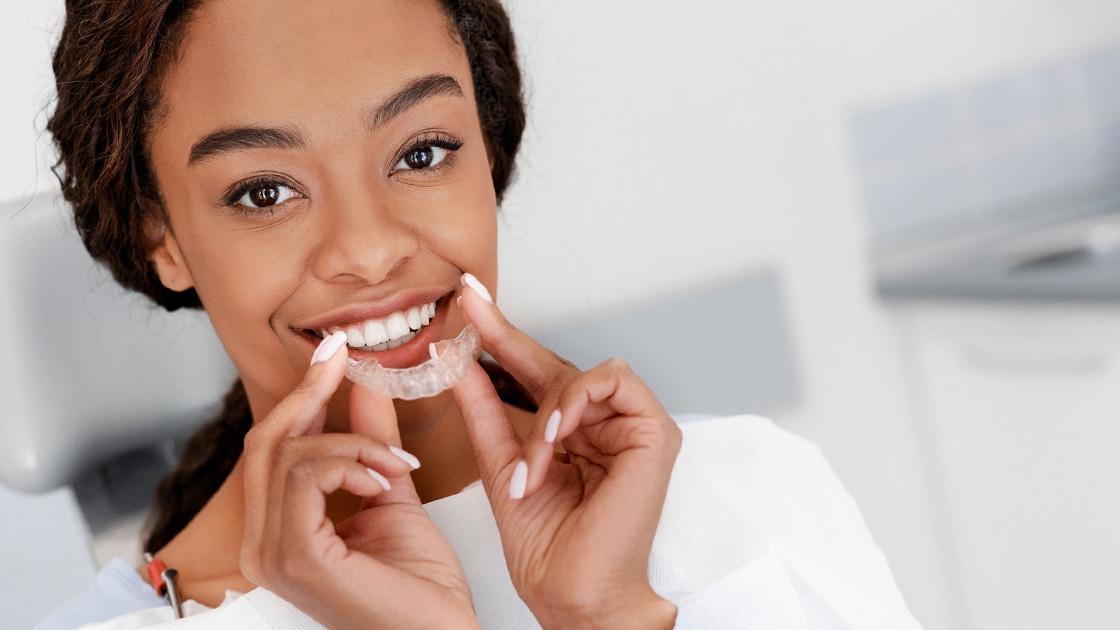 Embrace Orthodontics offers clear aligners in Delmar, NY, including braces and clear aligners, such as Invisalign. Text or call our practice at
518-439-9339
or
contact us
an appointment.
What Are Clear Aligners?
Clear aligners are a popular way for adults and teens to straighten teeth. These aligners work effectively yet are nearly invisible in daily life. They are a great alternative for patients who would like orthodontic treatment, but don't want the look of bulky traditional braces on their teeth.
Clear aligners work by shifting the position of the teeth by tenths of millimeters at a time. The orthodontist designs a series of aligners used in sequence to move the teeth. Each aligner is worn for ten to fourteen days before switching to the new aligner. 
Since patients don't have to come in to have braces tightened by the orthodontist, they are able to come in for fewer visits with shorter appointments for the orthodontist to evaluate progress. Most of the work is done by the orthodontist in setting up the aligners before the patient even starts with them.
Our office offers a variety of types of aligners, including Invisalign and similar options. 
Benefits of Clear Aligners

Here are several significant benefits of straightening teeth with clear aligners:
They Are Unobtrusive

The most valuable benefit of clear aligners is that they are nearly invisible. The patient doesn't have to worry about people noticing their braces, making them ideal for professionals or anyone, really, who doesn't like the look of traditional braces. 
They Do Not Interfere With Dental Hygiene

Another practical benefit is that the aligners don't interfere with cleaning teeth. Standard braces get in the way of brushing and flossing requiring diligent extra care during treatment.
All the patient has to do with aligners is take the appliances out and brush and floss like usual. The patient needs to keep the aligner clean as well.
Straight Teeth Are Healthier

Straight teeth are easier to clean and floss between and are less likely to get food stuck between them, reducing the risk of tooth decay or periodontal disease.
Clear Aligners Are Faster Than Braces

Clear aligners work more quickly than braces. Treatment may finish in as little as six months.
Patients Can Eat Anything They Want

Since aligners come out while the patient is eating, they can eat anything they want, including the brittle, chewy, and hard foods that braces patients aren't allowed to have.
Are You a Good Candidate for Clear Aligners?

If you have misaligned teeth and want to upgrade your smile, you should ask your orthodontist about clear aligners.
Aligners are ideal for most adults as they will reliably wear their trays.
People with missing teeth may not be able to use clear aligners. However, orthodontists can use some kinds of aligners with dental implants.
People with severely misaligned or crooked teeth may need standard braces instead.
Why Choose Embrace Orthodontics?

Our boutique practice strives to be a place where patients feel comfortable. Unlike other orthodontic offices, Embrace Orthodontics is a solo-doctor practice, meaning that you will know exactly who your doctor is at every appointment. Your satisfaction and good health are our top priorities. We will assist you in making the best decisions for your orthodontic treatment and build a great smile together, as a team.
Frequently Asked Questions About Clear Aligners

Here are popular patient questions and our answers:
How long each day do I need to wear my aligners?

Orthodontists recommend that you wear your aligners 22-24 hours per day. If you don't wear your aligners nearly all the time, they won't have the opportunity to move your teeth. Take the aligners out before you eat or drink. When you finish, clean and then replace them.
What do I need to do to keep my aligners clean?
Even though aligners only last a few weeks, they accumulate plaque and debris and need daily cleaning. Rinse your aligners and brush them with clear liquid soap. Rinse again.
Some patients choose to use denture tablets to soak their aligners. Alternatively, brands like Invisalign offer dedicated cleaning solutions.
How long will I need to wear clear aligners?

It usually takes six to twelve months to straighten teeth with clear aligners. The length of treatment depends on how much the teeth need realignment.
Call or Text Embrace Orthodontics

Feel free to call or text Embrace Orthodontics at
518-439-9339
to find out more and schedule an appointment to discuss what clear aligners can do for you.